Dramatically Improve Concrete Appearance with Expert Concrete Restoration
Protect Your Property from Cracking and Deterioration
Concrete surfaces are subject to harsh weather conditions and heavy use, leading to cracks, chips, and other types of damage that affect their structural integrity. Restoring damaged concrete with professional restoration services can significantly extend its life, saving you money on costly repairs and replacements in the long run. Reinforcing your concrete surfaces through restoration ensures their stability and security, providing you with peace of mind for years to come. When you invest in concrete restoration, you protect your property from further damage and ensure its durability against wear and tear.
So, if you're looking for professional services, contact our team and we'll provide you with a free 30-minute consultation to understand your requirements and suggest the best possible remedy.
Revamp Your Property's Appearance and Boost Its Value
The appearance of your property is a crucial factor in attracting potential buyers or tenants. If your concrete surfaces have cracks, stains, or other imperfections, it can negatively affect your property's overall look and curb appeal. Professional restoration services help combat these imperfections, enhancing their appearance and increasing the value of your property.
An attractive exterior adds value to your property, preventing further damage and deterioration. Our team has a pool of certified restoration contractors to help you with keeping your property free from cracks, and spalling and offering structural strengthening services.
Avoid Costly Concrete Replacement with Targeted Repairs
Concrete restoration services are often more cost-effective than a complete replacement. Repairing only the damaged areas of your concrete surface saves you money on expensive replacement costs. Restoration services are completed faster than replacement, minimizing disruptions to your property and saving you valuable time and money.
So, rather than going with a tedious and expensive approach, invest in a simple yet powerful restoration service that helps you extend the lifespan of your concrete surfaces and save money on costly repairs and replacements in the future. We start with a free no-obligation consultation call and help you understand why we are your go-to contractors for your construction needs.
Extend the Life of Your Concrete Surfaces and Preserve Your Investment
Keeping your concrete surfaces in good condition is crucial to ensure their longevity. Opting for professional restoration services can help you identify and address any underlying issues before they escalate into major problems, which can save you a considerable amount of money in the long run.
Concrete restoration services protect your concrete surfaces from additional damage and ensure their stability for many years to come. This extends the lifespan of your concrete surfaces, which further helps you safeguard your investment and avoid costly repairs or replacements in the future. For a better understanding, we advise you to hop on a call with our team, where our contractors help you with all your requirements or issues.
Trusted by companies and homeowner associations

Our Concrete Restoration & Spalling Repair Services
Deteriorated Concrete Repairs
Post-tensioned Reinforcing Repairs
2478+

Projects Completed

5,454

Inspections

1789+

Permits Approved

289+

Violations Legalized
Why choose Souffront?
When you choose Souffront for your concrete restoration needs, you can rest easy that you are working with a team of experts who are committed to your satisfaction.
Using the latest technology and great-quality materials
Our team of experienced professionals is dedicated to delivering high-quality workmanship using the latest techniques and materials in the industry. We take the time to assess each project individually and tailor our approach to meet the unique needs and specifications of our clients.
On-time completion with no impact on daily operations
We also understand that a construction project can be disruptive to your daily operations, which is why we work diligently to minimize the impact on your business. We pride ourselves on our ability to complete projects on time and on budget, without sacrificing quality.
We promote transparent communication to build strong relationships
We maintain open lines of communication with our clients throughout the entire project, providing regular updates and addressing any concerns or questions promptly. Our goal is to build strong, lasting relationships with our clients, earning their trust and confidence through integrity, and exceptional service.
Preserving the Past, Building the Future – Concrete Restoration
Restore, strengthen, and enhance the longevity of your concrete structures. Reach out to our experts for reliable restoration and repair services.
Request A Quote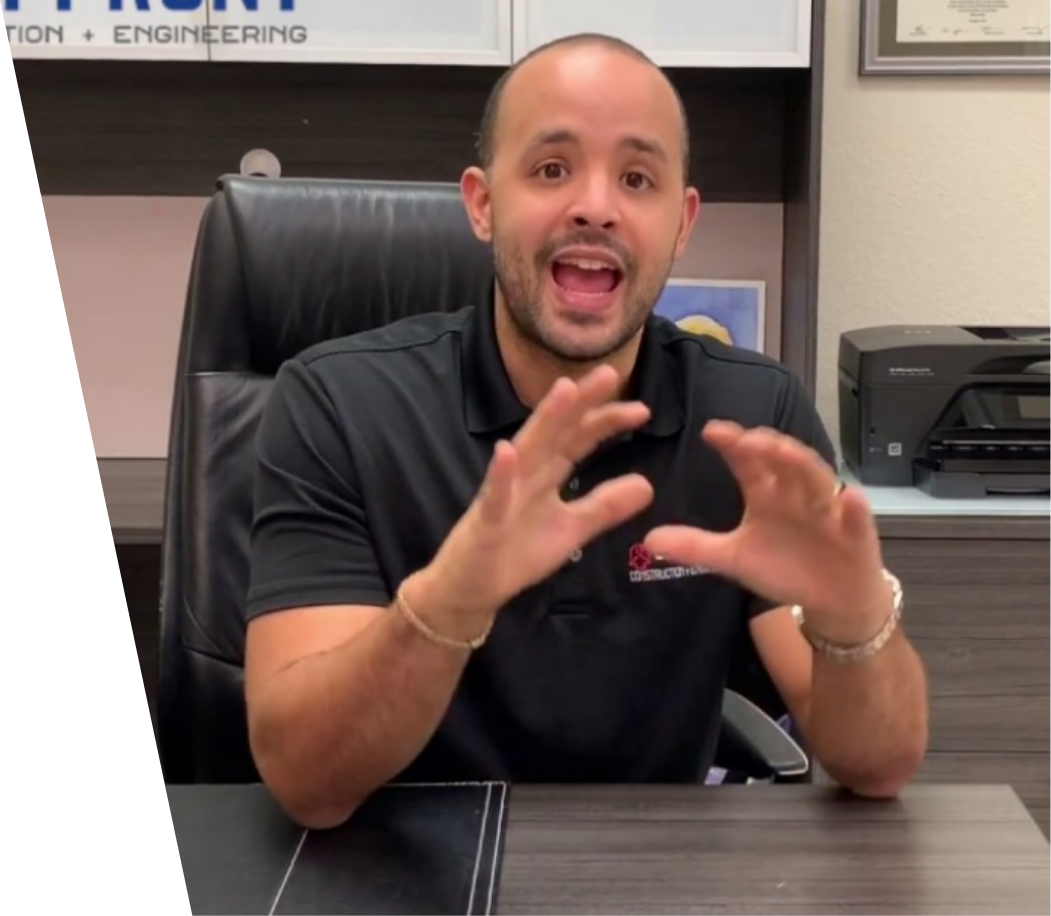 Our 8-Step Process Includes

Initial Inquiry
To begin, reach out to us via phone, email, or our website. Our affable and knowledgeable staff will assist you with any queries and schedule an appointment for an on-site assessment.

On-site Assessment
Our adept team will visit your property to evaluate the state of your concrete surfaces. We will provide you with an honest evaluation of the necessary repairs and a project cost estimate.

Proposal and Agreement
After assessing the project, we will create a comprehensive proposal that outlines the scope, required materials, and estimated cost. Upon agreement, we will send the contract, including the project timeline and payment schedule.
Preparation
Before initiating the restoration process, we will prepare the surface by cleaning and eliminating any debris, loose material, or coatings. Our preparation includes testing the surface for moisture content and pH levels.

Restoration
Our team of experts repairs concrete surfaces by filling cracks, fixing chips, and leveling the surface using various techniques such as shotcrete, epoxy injection, and grouting. Our specialists restore concrete through the latest techniques

Surface Preparation
To prepare the surface for the final application, we use grinding or shot blasting to eliminate any remaining debris or coatings. Our team uses advanced techniques like diamond grinding and scarifying for optimal surface preparation.

Coating Application
We offer a range of coatings, including sealers, epoxy coatings, and polyurethane coatings, that improve surface durability, appearance, and performance. Depending on preferences and surface conditions, we may recommend applying a coating to the restored concrete surface.
Final Inspection and Clean-up
After the restoration and coating application, we conduct a final inspection to ensure that the surface meets our high standards of quality. We also clean up the work area, leaving it in pristine condition.
Concrete Repair – Building Stronger Foundations
Request a Free Quote
Request a Free Quote
"*" indicates required fields
Frequently Asked Questions
What are the different types of concrete restoration and repairs?
Here is a detailed solution to your question.
Types of Concrete Restoration & Repairs
Souffront is the most seasoned concrete restoration contractor providing a variety of long-term concrete repairs by utilizing the most effective procedures available.
Epoxy Pressure Injection (Crack Repair)
Epoxy injection is a permanent structural and preservation procedure. The epoxy injection process not only fills cracks but welds them together structurally with an epoxy material that's forced through cracks under pressure forming a bond that's stronger than the concrete itself.
Quality of workmanship in the epoxy injection is critical because no one can see if a crack is completely injected. Critical job site considerations include proper surface preparation, method of capping and porting, injection material, applied method, and confirmed results.
Souffront has the most extensive training, best equipment, and longest experience among all concrete restoration companies to perform your unique injection application. Vertical, horizontal, overhead applications, class A to class D cracks, resins or gels, and low or high-pressure injection work are just a few of the pressure injection options available.
Spall & Crack Repair
Patching & Grouting
Structural Concrete Repair
Structural Strengthening
Crack Sealing & Filling
Semi-Rigid Epoxy, Polyurea & Polyurethane Joint Filling
Cracks in concrete can be caused by a deficiency in design, construction, and neglect. Over time and with exposure to the elements, these cracks can worsen. Prolonging the repair of these cracks will only make repairs more costly and more extensive.
Cracks in concrete exposed to moisture should be repaired as quickly as possible by a professional concrete restoration contractor to avoid extensive damage, which leads to more costly repairs.
Routing and sealing is the most common method of crack repair. In this procedure, the crack is enlarged to permit sufficient penetration of the repair compound. This method is most effective when the material is installed into the crack to prevent further damage to the concrete substrate.
Concrete Resurfacing
We offer concrete resurfacing for a variety of flooring solutions.
All floors designated to receive self-leveling cement are mechanically prepared to establish an adhesion profile. The material will be mixed in a twin hopper batch mixer and pumped to the floor. Once applied, the self-leveling cement is pulled smooth and allowed to dry.
Pre-fill may be required by the concrete restoration contractor prior to the placement of self-leveling cement. The finished product may be coated, tiled, carpeted, or enhanced in its existing state with staining, polishing, or sealing.
Some resurfacing options include:
Self-leveling Underlayments
Self-leveling Topping
Decorative Toppings
Stampable Overlays
What are the signs that my concrete needs restoration?
Concrete is a durable material that can last for decades, but it is not immune to wear and tear. Over time, concrete surfaces can develop cracks, spalling, and other signs of damage that require restoration. Here are some specific signs that your concrete may need restoration:
Cracks: If you notice cracks in your concrete surface, it could be a sign of structural damage. Small cracks may not be a cause for concern, but larger cracks or those that are widening over time should be addressed immediately.
Spalling: Spalling occurs when the surface of the concrete begins to flake or peel away. This can be caused by exposure to freeze-thaw cycles, chemicals, or heavy traffic. Spalling can weaken the surface of the concrete and make it more susceptible to further damage.
Discoloration: If your concrete has become discolored or stained, it may be a sign of underlying damage. Discoloration can be caused by exposure to chemicals, UV rays, or moisture.
Unevenness: If your concrete surface is uneven or has settled over time, it may need to be restored. Unevenness can create tripping hazards and make the surface less stable.
If you notice any of these signs on your concrete surface, it is important to have it inspected by a professional. A qualified contractor can assess the extent of the damage and recommend the best course of action for restoring your concrete surface to its original condition.
What is stamped concrete restoration?
It is the process of renewing and revitalizing stamped concrete surfaces that have become worn, faded, or damaged over time. This involves a series of steps to repair any cracks or chips, clean the surface thoroughly, and apply a new layer of sealant to protect against future damage. One specific and useful tip for those looking to restore their stamped concrete is to choose a high-quality sealant that is specifically designed for use on such surfaces. Look for a product that offers UV protection to prevent fading and discoloration, as well as resistance to water, oil, and other common stains. Applying a good sealant can help extend the life of your concrete and keep it looking like new for years to come. And also, if you're in search of stamped concrete restoration near you, our team is just one click away. We can help you, first by scheduling a free no-obligation consultation for you to discuss what exactly are your requirements and then we would pen down our service and its benefits specific to your inquiry.
What are the benefits of concrete restoration, and how does it compare to replacement?
Restoring is a way to fix the damage and return it to its original condition. This involves using special methods and materials to repair cracks, spalls, and other damage. Restoring concrete is cheaper than replacing it, as replacement is complex and expensive. Property owners who want to save money can benefit from this.
Restoring concrete structures also increases durability by strengthening them with additional materials like steel or carbon fiber. This makes the structures more resistant to wear and tear. Restoring concrete is also environmentally friendly as it generates less waste than replacement. The materials used for restoration are often made from recycled resources, making it an even more sustainable solution.
How long does a typical concrete restoration project take?
This completely depends on various factors such as the size of the project, level of damage, and weather conditions. Typically, a small-scale restoration job that involves patching up cracks and filling holes can be completed within a day or two. For larger projects that require resurfacing, the duration can extend to several days or weeks. The process involves assessing the damage, preparing the surface, applying the repair material, and allowing it to cure properly. Extreme temperatures or heavy rainfall can affect the curing process and lead to slower progress. In such situations, hiring a professional contractor with experience and expertise in such technical work always pays.
What types of concrete surfaces can be restored?
Almost all types of concrete surfaces can be restored, including driveways, patios, pool decks, sidewalks, and garage floors. But, it is important to note that the condition of the existing surface plays a crucial role in determining whether it can be restored or not. Suppose, if the surface has extensive cracks or structural damage, it may not be suitable for resurfacing. This is why it's generally advised to consult with a professional contractor to assess the condition of the surface and determine the best course of action for restoration.
How do I maintain my restored concrete surface to ensure its longevity?
Regular cleaning and sealing are essential. Once the surface is clean, apply a high-quality sealer to protect it from moisture, UV rays, and other environmental factors. Choose a sealer that is compatible with your specific type of concrete and follow the manufacturer's instructions for application. It is recommended to reapply the sealer every 2-3 years to ensure maximum protection. Additionally, avoid placing heavy objects or vehicles on the surface as they can cause cracks and damage over time.
How much does concrete restoration cost, and what factors can impact the price?
Concrete restoration costs can vary depending on several factors. The average cost ranges from $3 to $25 per square foot, depending on the extent of damage and the type of repair needed. Factors that can impact the price include the size of the area to be restored, the severity of the damage, and the type of repair method used. For instance, minor cracks and surface repairs may cost less than major structural repairs or replacements. Additionally, the location and accessibility of the site can also affect the cost. It is important to consult with a professional contractor to assess the damage and provide an accurate estimate for concrete restoration costs. And speaking of concrete restoration contractors, even they play a role in cost estimation. Every firm has its own pricing structure and logic.
Revitalize Your Spaces with Concrete Restoration
Receive Professional Guidance and Keep Your Property Up to Date – Get Your Inspection Today!
Request a quote