The Importance of Electrical Home Safety Inspections and How to Ensure Your Family's Protection!
Last Updated - May 8th, 2023 9:06 AM
In our technologically advanced society, we are all highly dependent on appliances. To use these appliances, we rely heavily on electricity to power our daily lives. 
But are you aware of the electrical hazards that could be lurking within the safety of the walls of your home?
Electrical fires and shocks can pose a significant threat to your family's safety and well-being, and unfortunately, many homeowners, like we were once, are unaware of the risks until it's too late. 
That's where electrical home safety inspections come in. 
These comprehensive assessments can help identify potential hazards before they become major problems, ensuring that your home is a safe and secure place to live for you and your family. 
In this blog, we'll explore the importance of electrical home safety inspections, what to expect during the inspection process, and how to ensure that your family stays safe and shock-free for years to come.
What is Electrical Home Safety Inspection, and Why It Is Important for Your Home?
So, what exactly is an electrical home safety inspection?
An electrical home safety inspection is a thorough examination of all the electrical systems that are installed in your home to make your life easier. 
To keep using these systems efficiently and, most importantly, safely, it's essential to make sure that your electrical wiring, circuits, and appliances are safe to use and meet the required safety standards.
Now, the million-dollar question, "Why do I need an electrical safety inspection?" 
Well, the answer is simple: to protect your home and your loved ones. Electrical issues can be dangerous and even life-threatening if left unchecked. 
During an electrical safety inspection, a qualified electrician will examine your electrical system, including outlets, wiring, and circuit breakers. 
They will look for any potential electrical hazards, such as outdated wiring or overloaded circuits, and make recommendations for repairs or upgrades to keep your home safe.
By scheduling an electrical safety inspection, you can have peace of mind knowing that your home's electrical system is in good shape and that you're taking the necessary steps to keep your family safe.
You might also like to read: Garage Safety Inspection: A Step-by-Step Guide to Get One Done (2023)
When Should You Schedule a Home Electrical Safety Inspection?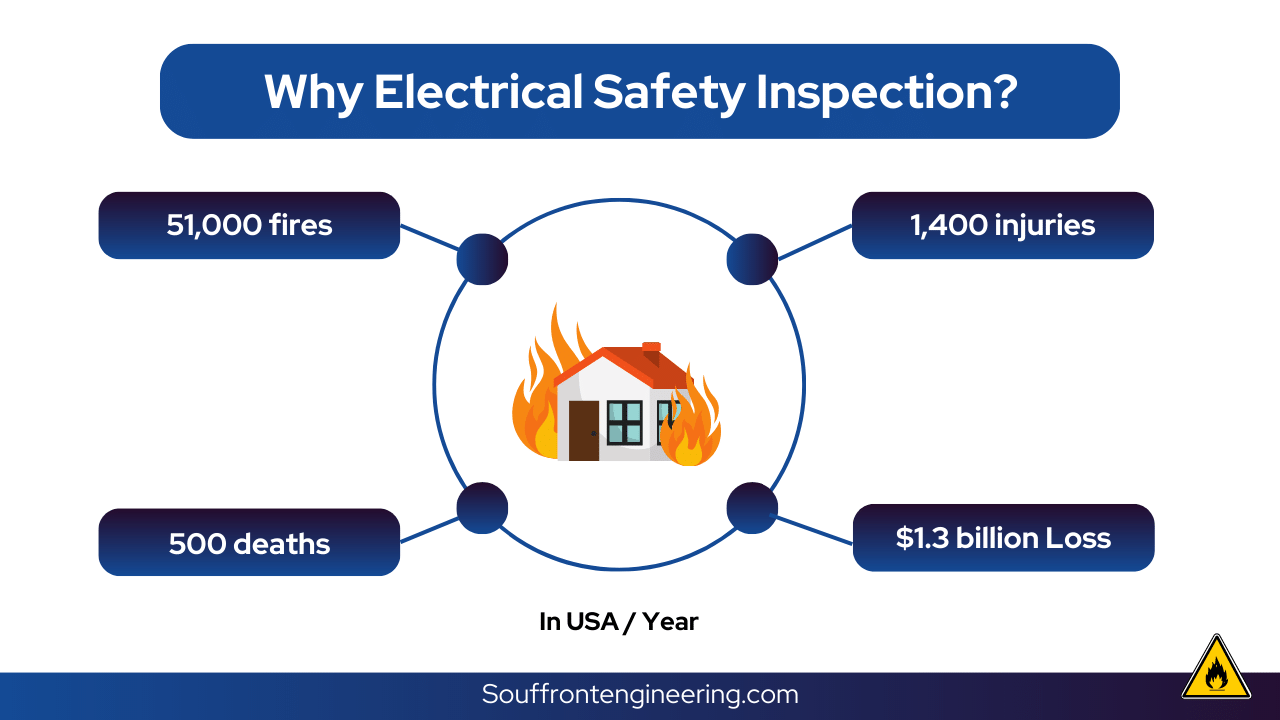 There are a few key scenarios when it's the best bet to have your system checked out by a qualified electrician.
Schedule an Electrical Safety Home inspection Before Moving In
First and foremost would be the time you're moving into a new home. It's always a good idea to have an electrical safety inspection done before you move in. 
This will give you the assurance you need to know that you are moving into a safe home.
Schedule an Electrical Home Safety Inspection Before Any Major Home Renovations or Additions
If you're planning any major renovations or additions to your home, you should have an inspection done before you start any work. 
It ensures that your electrical system can handle the extra load and that any new wiring or circuits are installed correctly.
Schedule an Electrical Home Safety Inspection for Older Homes or Those Lacking Recent Inspections
If you live in a home that is older than 25 years old or hasn't had an inspection done in several years, it would be a smart move at your end to schedule one. 
Outdated wiring and electrical systems can be dangerous, and an inspection can identify any potential hazards and recommend necessary upgrades.
Schedule an Electrical Home Safety Inspection to Troubleshoot Electrical Issues
If you're experiencing any electrical issues, such as flickers, frequent tripped breakers, or power outages, it's time to schedule an inspection. 
These issues can be a sign of a larger problem, and an inspection can identify the root cause and prevent more serious issues that may arise down the road.
You might also like to read: Pre-Purchase Building Inspections: Seeing the Unseen Before You Buy
Your Comprehensive Home Electrical Safety Inspection Checklist 
Now that we know why electrical home safety inspection is important, you are going to need a checklist to get you started.
But before we begin, let us give you a quick reminder that safety should always be your top priority when dealing with electricity. One wrong move can lead to a dangerous situation. 
So, it's always in your best interest to consult with a qualified electrician rather than doing it yourself.
Now, let's get started with the checklist:
Check the electrical panels

: Make sure that the electrical panels are properly labeled and that there are no signs of damage or rust. Also, check if the circuit breakers are functioning correctly and not showing signs of tripping.

Inspect the outlets and switches

: Check for any loose or damaged outlets or switches. Ensure that they are not overloaded with plugs or have any signs of burn marks or discoloration.

Look for exposed wiring

: Check for any exposed wiring in your home. Exposed wiring can pose a significant risk of electrocution or fires, so it's essential to address this immediately.

Test the GFCI outlets

:

GFCI

(Ground Fault Circuit Interrupter) outlets are designed to prevent electrical shock. To test them, press the "test" button and ensure that the outlet trips off. Then, press the "reset" button to turn it back on.

Check the smoke and Carbon Monoxide (CO) detectors

: Smoke/CO detectors are critical in alerting you to potential fires. Make sure they are functioning correctly and have fresh batteries.
More things to check.
Check for overload

: Ensure that no circuits are overloaded with appliances or electronics. Overloading circuits can cause overheating, which can lead to fires.

Inspect electrical cords

: Check all electrical cords for any signs of damage, including fraying or cracking. Damaged cords can cause electrical shocks or fires.

Check the lighting

: Ensure that all light fixtures are securely fastened and not showing any signs of damage. Also, replace any burned-out light bulbs.

Check the outdoor electrical system

: Inspect outdoor electrical outlets, lights, and wiring for any signs of damage or wear and tear. Make sure they're weatherproof and in good condition.

Verify grounding

– Check to make sure that all your outlets are properly

grounded

. You can use a simple outlet tester to do this.

Look for signs of pests

– Rodents and other pests can cause damage to electrical wires, so keep an eye out for any signs of infestation, such as droppings or gnaw marks.

Strange Smells

: If you detect any strange smells during an electrical home safety inspection, take action immediately. Turn off the power to the affected area and contact an electrician to address the issue.
How Much Does an Electrical Safety Inspection Cost?
Now, only one question remains, how much does an electrical safety inspection cost?
Ensuring the safety of your home is priceless, but it's natural to wonder about the cost of an electrical home safety inspection. 
Well, the answer to this question isn't as straightforward as you would have hoped. Electrical home safety inspection costs can vary depending on a number of factors, including the size and complexity of your home's electrical system. 
While a basic inspection can cost between $200 to $500, a more detailed inspection can cost upwards of $1,000 or more. 
We recommend that you should always contact a licensed electrician or electrical contractor in your area to get an accurate estimate based on your specific needs.
Remember, investing in a proper electrical home safety inspection can save you money in the long run and, most importantly, ensure that your home is safe and secure for you and your loved ones.
Why choose Souffront?
After all that we have discussed so far, now you know what electrical home safety inspection is and why it is important for the safety of your home and your loved ones.
The only thing left to do is to get you started.
You must be wondering where you can find such professionals whom you can trust with your home. Well, Look no further than Souffront Construction & Engineering (SCE) to save the day!
Our team of certified electricians has years of experience and expertise in identifying potential hazards and recommending solutions to keep your home safe. 
We use state-of-the-art equipment to thoroughly inspect every aspect of your electrical system, from the wiring and outlets to the circuit breakers and panels.
But that isn't all that matters, is it?
What truly sets us apart is our commitment to customer service. We understand that electrical safety is a serious matter. We take the time to explain our findings and recommendations in a clear and easy-to-understand way. 
To make things even better, we also offer competitive pricing and flexible scheduling to fit your needs.
Instead of searching for "electrical safety inspection near me" on Google next time, why not give our team of expert electricians a call?
John Souffront is a seasoned leader in the construction and engineering industry, with over a decade of experience at the helm of Souffront Construction & Engineering. Known for his unwavering commitment to excellence and innovation, John has propelled his firm to the forefront of the field, delivering cutting-edge solutions for complex projects around the country.
Build Your Project
Ensure safety and compliance on your construction site with our experienced team. Call us today.
Contact Us