Wind Mitigation and 4 Point Inspection: an Exclusive Guide to Understand
Last Updated - October 11th, 2022 3:00 PM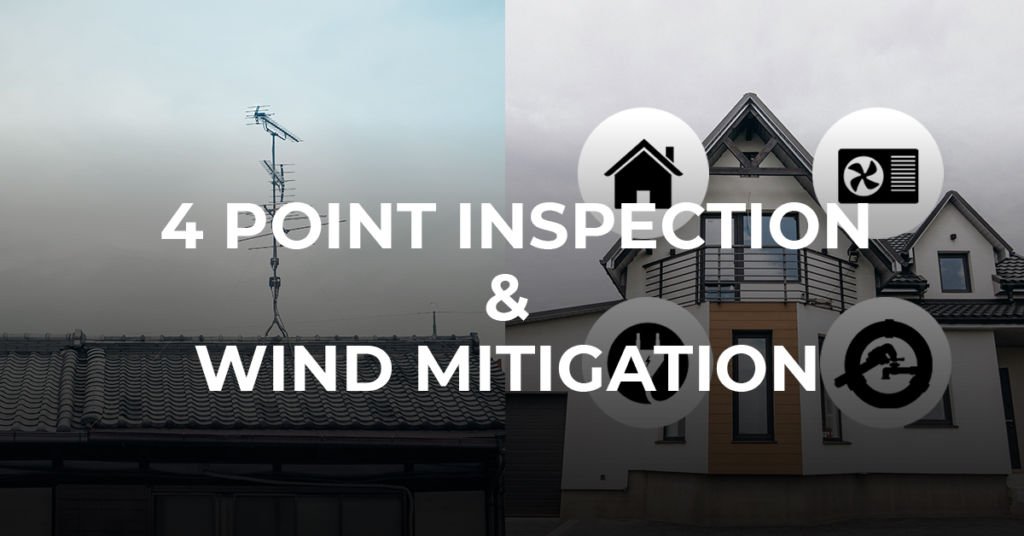 Tired of continuously searching for wind mitigation and 4 point inspection Miami FL? Keep reading because, by the end of this blog, you will gain a wealth of knowledge and won't have to search for 4 point wind mitigation inspection endlessly.
Florida insurance inspections include both wind mitigation and the 4 Point Inspection.  However, there are significant distinctions in the roles each is meant to play. There are certain features of a home that can qualify for insurance discounts thanks to a wind mitigation inspection. A house insurance application is greatly aided by the information provided by a 4-point inspection, which details the state of the HVAC, electrical, plumbing, and roofing systems.
In this blog, we'll examine 4 point and wind mitigation inspection in detail. It will help you make a sound decision about which one to use. Without any ado, let's begin with 4 point inspection.
4 Point Inspection: An Introduction
The purchase or renewal of a homeowners insurance policy on an older house is frequently contingent upon the homeowner passing a 4 point inspection.
A four-point inspection is an important check that insurers perform before committing to home insurance. The inspector will evaluate the state of your house or apartment and report their findings to you. There are four main areas of expertise: heating, ventilation, air conditioning, electrical, plumbing, and roofing. The 4 point inspection gets its name from these criteria.
An independent home inspector can tell your insurance company if they should take the risk of insuring your property. Addressing problems identified by the house inspector is crucial. Neglecting them could lead to costly issues in the future. Possibly, an insurer won't cover your property. This can happen if you don't address the issues that prevented coverage in the past.
When Do We Require a 4 Point Inspection?
A 4 point examination is not necessary for every house. In contrast, a 4 point examination may be mandated if you want to buy an older home that is more likely to have structural problems. For instance, if your home shows signs of wear and tear, a 4 point inspection must happen as per your homeowner's insurance company before they'll cover any repairs.
However, since regulations differ from state to state, the home's location is also a factor in the requirements that must be met. As an illustration, in Florida, all properties older than 30 must pass a 4-point inspection.
Why is it important to get a 4 point inspection?
The availability of alternate options is not always present. For example, if you own an older house and wish to renew or purchase insurance, you may be required to receive a 4-point examination by your insurance provider. If this happens, your insurance company might foot the bill. Even if it is isn't a mandate, a 4-point inspection may be in your best interest.
It helps you decide whether to buy a house and at what price and avoids any unpleasant surprises during the transaction. For example, a 4-point inspection helps as an additional guarantee of the property's condition if you're selling your home. Your home's quality and value confirmation will happen, or you'll gain insight into how to improve its resale price, whichever comes first.
4 Point Inspection: What is included in it?
Heating, Ventilation, and Air Conditioning (HVAC)
When HVAC systems are not working correctly or are old, they can pose serious health risks. They have the potential to compromise indoor air quality and promote the accumulation of dust. Asthmatics and other people who have trouble breathing would be particularly affected by a malfunctioning HVAC system.
As part of its 4-point inspection, the HVAC department looks at the building's heating, ventilation, and air conditioning systems. This section includes the certified inspector's assessment of the system's current state, age, and lifespan. This might contain data on how much energy consumption takes place and where it's being generated.
On top of that, they keep an eye out for specific problems, such as condensation seepage, poorly executed setup, inadequate upkeep or upgrading, frayed or exposed wires, lack of adequate chimneys, faulty or nonexistent filtering, and discarded machinery.
Electrical Wiring and Electrical System
The electrical wiring and system in a home inspection are a part of a comprehensive four-point examination, and the inspector makes a note of the system's make and model as well as its current state.
They'll make a list of what needs fixing and highlight any flaws they notice with cloth wiring, standardized two-prong plugs, knob, tube, aluminum wiring, safety switches and fuse boxes, double-tapped breakers, and Federal Pacific electrical panel.
Note: Damages to your electrical system pose a significant risk of fire. Therefore, you must deal with this system without delay. According to the most up-to-date statistics from the U.S. Fire Administration, between 2012 and 2016, electrical problems led to thirteen percent of all residential fires. A total of 25,700 fires were caused by electrical problems in 2018, but this number went down by 2% from 2009.
Plumbing Connections and Fixtures
Inspecting the plumbing is an integral part of the 4-point inspection. The water system and heater inspection are also part of a comprehensive house inspection. The latter is something the inspector has an interest in doing so that water is spread evenly throughout the dwelling. They make a note of the age and type afterward.
After that, they start looking for problems like inefficient and antiquated water heaters, dripping water, bad traps, a lack of safety valves, corrosion problems on a large scale, congestion causing a drop in water pressure, leaks that could occur if the water pressure is too high, and polybutylene supply lines.
Roofing
Among these four checks, the roof inspection is particularly important. Since a roof affects more than just the framework of a house, it often ends up being the most in-depth part. Aspects like mold development and thermal efficiency are also impacted. At this inspection stage, the inspector takes down some background data, like the roofing material. Also, the roof's age, expected lifespan, and the condition is evaluated.
That could mean issues like leaks or water damage, broken or missing tiles or shingles, floor tiles with cracks or chips, insufficient screws, loss of granules in excess, and the provenance of prior unlicensed or unpermitted employment.
Next, we shift to wind mitigation and unfold everything about the inspection process.
Wind Mitigation Inspection: What is it?
The term "wind mitigation" refers to the adoption of specific construction methods or the installation of additional components on a building. It is to increase its resilience against destructive winds. For example, a wind mitigation inspection is necessary to determine whether or not your home was constructed with wind mitigation.
If not, it will help understand how to wind-mitigate your property. Certified professionals can inspect wind mitigation, including contractors, architects, engineers, and other building inspectors. In addition, this professional will inspect your home and assess its vulnerability to high winds based on its current construction and design.
The inspector might also give you advice on how to make your house more windproof in the future.
Read: CONCRETE SPALLING: A POWERFUL GUIDE TO UNDERSTAND (2022)
Wind Mitigation Requirements: What are they?
In most cases, you can get a discount on your homeowner's insurance if you've had a wind mitigation examination within the last five years.
Homes that aren't up to code pose a safety risk, which is why these inspections are crucial. In 2001, Florida revised its building codes to eliminate subpar construction methods having a negative impact on homes during hurricanes.
It's safe to say that these rules were among the toughest in the country back then. Due to this, numerous building practices, such as roof attachment methods and window and shutter quality requirements, are evolving over time.
If your home was built before the 1950s, it's obvious that you can't make any major structural changes. If it is no longer safe, it is not your fault. In such a case, you may consider making some expensive but potentially lifesaving improvements to your home. For instance, replacing the roof-to-wall connection or installing new impact-resistant windows.
Wind Mitigation Form: An In-Depth Understanding
The Florida Office of Insurance Regulation's website must provide a standardized wind mitigation form as the law requires. There are seven main portions of the form, each with its numbers.
If an inspection takes place, the inspector will focus on these points. Different states' wind mitigation forms may look slightly different, but they all have common requirements for protecting the roof and any openings.
The first portion of the wind mitigation forms asks when your home was built and whether or not it complies with current building codes. For example, your home might conform with the more stringent municipal construction rules in South Florida's Miami-Dade and Broward counties if construction took place after 1994.
The roof discussion is there in detail in sections two through five. An inspector will evaluate your roof based on its pitch, the quality of its materials, the quality of its construction, and the quality of its attachments to the walls.
Metal or ceramic roofs are preferred over asphalt shingles because they withstand strong winds. This would be an issue if your roof was not secured to your walls using wraps or clips but rather with toenails.
Read: THINGS TO KNOW WHILE CHOOSING AN INFRARED THERMOGRAPHY SERVICE PROVIDER
Continuing
Not all roofs are equal in creation when it comes to withstanding high winds. For example, a gable roof isn't as attractive as other options, such as a hip or flat roof. One of the most frequent types of roofs in America is the gable.
It consists of two sloping sides that come together at the top. It's a roof for a simple house drawing or the beginning of a house of cards, with two cards leaned upright.
Gable roofs aren't as strong and secure against the wind as hip roofs are because of their simpler form. It is also common to see a hip roof with slopes on all four sides. In wind mitigation assessments, hip roofs are preferred due to their higher cost yet superior ability to endure strong gusts effectively.
A hip roof, one of several styles available, must be at least 90% hip to qualify for the associated discount. Hip length is determined by dividing the length of the hip section of the roof by the roof's overall circumference. To rephrase, the sum of all non-hip roof features must be no more than 10% of the roof's overall length.
The sixth section addresses roof deck water tightness, while the seventh checks door and window security for your assurance. Check window frames, door frames, and shutters for strength to gauge their resilience against airborne objects and potential impact.
You can search online regarding a 4 point inspection and wind mitigation form, and you can find the details there.
Read: THRESHOLD BUILDING INSPECTION GUIDE: HERE'S WHAT YOU NEED TO KNOW
Final Words
With this, we finally reach the concluding part of the blog. Having a 4 point mitigation inspection done is crucial if you fall into the category of those requiring it. Having proper resources with you will prevent you from breaking your head finding the best wind mitigation and 4 point inspection services.
This is where Souffront comes in. Having decades of experience providing top-notch services in 40 year recertification, concrete restoration, and infrared thermography inspection, we assure work quality. We believe our wind mitigation and 4 point inspection service will help cover everything you worry about. Whether you are looking for a 4 point inspection Broward county or wind mitigation Miami service, rest assured that we have you covered from ground level.
John Souffront is a seasoned leader in the construction and engineering industry, with over a decade of experience at the helm of Souffront Construction & Engineering. Known for his unwavering commitment to excellence and innovation, John has propelled his firm to the forefront of the field, delivering cutting-edge solutions for complex projects around the country.
Build Your Project
Ensure safety and compliance on your construction site with our experienced team. Call us today.
Contact Us